Feedback
---
If you have any questions, please leave your contact information, or contact us, thank you for your support and trust, we will wholeheartedly provide you with high quality products and services!
Online message
Electric power industry-LCS series electronic belt scale physical detection device
---
---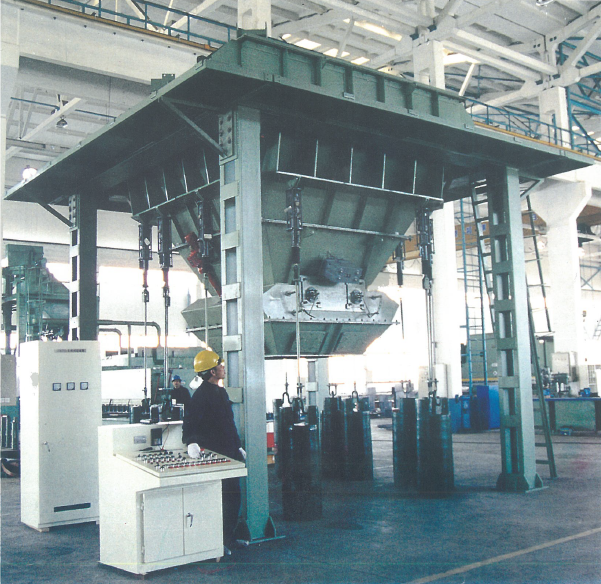 LCS series electronic belt scale physical detection device

Overview:
LCS series of electronic belt kind detecting means is designed for electronic belt physical material detection apparatus, the apparatus is a belt scale assay of regulation process (JJG 650) and the Ministry of verification procedures JJG (power) -02 requirements, And the Metrology Office of the Ministry of Electric Power on the implementation of the electronic belt scale physical detection device construction standard assessment requirements (Dianji Hanzi 97 No. 10) and professionally equipped products. Because the equipment can perform physical calibration on the electronic belt scale from time to time, thus ensuring the dynamic accuracy of the belt scale, it can be widely used in the physical detection of electronic belt scales in the electric power, metallurgy, coal, port, chemical and other industries.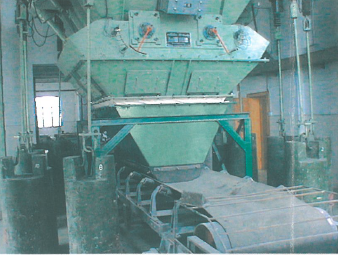 Technical Parameters:
1. Maximum weighing Dmax: 8t-100t
2. Display division value d: ≤10kg
3. Verification division value: ≥3000e
4. Accuracy grade: OIML. R76 Ⅲ level and JJG (electricity) 02-96 requirements 5. Weight quality: 1000kg/ piece
Weight accuracy level: M 11 (tolerance 0.01%)
Weight driving mode: electric weight hoisting machine for the four corners of the cloth bucket
6. Sensor model: CC21 type, CS type
Sensor level: C3 level (OIML R60)
7. Weighing display controller instrument: EDI-800/801/2000
weighing display division number: n=3 x 10 5
Maximum input sensitivity: 0.1μ V/d
8. Hopper structure: The four corners of the square hopper are lined with arc plates, and the actual volume of the hopper is designed according to the maximum safe load and material accumulation.
9. Scale body structure: hopper with electric double gate plate for unloading, electric weight lifting
10. System control mode: manual, automatic, on-site, and remote mode. It can be networked with a host PC or DCS for easy monitoring, management and Remote operation
11. System functions: zero setting, tare removal, accumulation, overload indication, weighing setting, data printing
12. Power supply: 220V (-15%~+10%) 50Hz (±2%)
13. Safety overload: 125% Dmax
14. Verification standards : a. International Legal Metrology Organization OIML, R76 "Regulations for Verification of Non-Automatic Weighing Instruments"
b. National Verification Regulation JJG (Electric Power) 02-96 "Verification Regulation of Electronic Belt Scale Physical Inspection Device "
c. National Verification Regulation JJG650 "Verification Regulation of Electronic Belt Scale"
d. National Verification Regulation JJG99 "Weights"
Features:
1. It adopts CC21 type and CS type dual remote control weighing sensor and EDI type weighing display controller, which are domestically leading in reliability and accuracy, especially suitable for harsh environments.
2. Using PLC programmable controller, coal is taken from the upper belt to the end of weighing, the flow control of coal caving and the vibration of the silo wall can be controlled according to the set sequence, and the degree of automation is high.
3. There is an indication of the opening degree of the material door on the control panel and the hopper door, so that the operator can see it at a glance and adjust the flow in time.
4. The weight hoist has two options: manual and automatic, and the automatic method is controlled by PLC.
5. The lower part of the hopper adopts an all-stainless steel structure to prevent coal accumulation and increase the service life of the scale body.
6. The material door is designed with a unique double-opening lining stainless steel gate, which is less prone to blocking and depositing coal than the usual radial gate structure.
7. The unique dust-proof structure makes the entire hopper device dustproof and airtight, and the environment is clean and sanitary.
System Configuration:
1. Using resistance strain type 7. Weighing bucket (including limit device), buffer bucket device
2. Weighing display controller and expansion board 8. Support frame (including platform and escalator)
3. Detection weights and sensing weights 9. Operation console, electric control cabinet (including PLC and programmer)
4. Electric weight hoist and accessories 10. Junction box, sensor special cable
5. Warehouse wall vibrator 11. Printer and interface
6. Unloading electric push rod gate and accessories 12. Power cable and cable tray
13. Hydraulic trolley (used to move weights)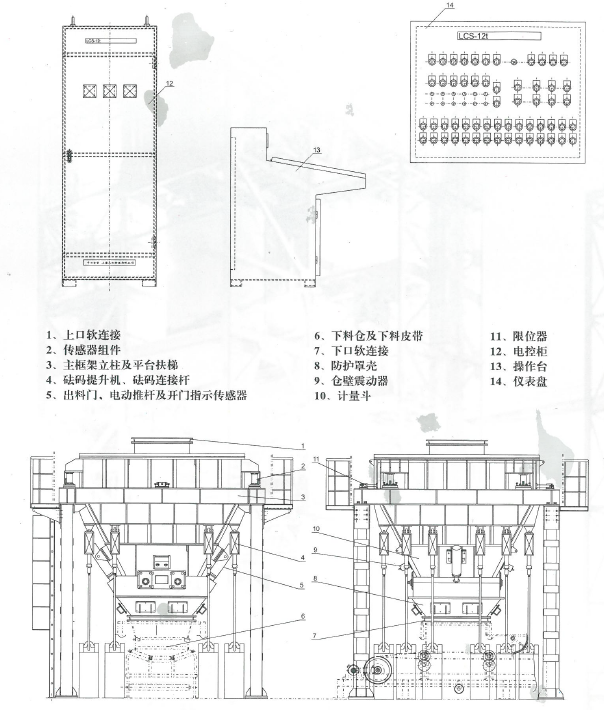 ---