Feedback
---
If you have any questions, please leave your contact information, or contact us, thank you for your support and trust, we will wholeheartedly provide you with high quality products and services!
Online message
Packing scale-4 buckets high-speed quantitative packing scale (+counting compensation system)
---
The online grain counting and weighing integrated machine independently developed by Shanghai Yamato won the second prize of "National Light Industry Council" scientific and technological progress in 2014, providing a brand new measurement for products sold by grain, such as seeds, buttons, auto parts, and electronic parts. Method of packaging.
Four-bucket scale + grain counting machine was awarded as "Shanghai High-tech Achievement Transformation Project" this year.
In the seed industry, Shanghai Dahe four-bucket scale + grain counting machine has been unanimously recognized by seed companies such as Denghai, Dunhuang, Zhongzhong International, Qiule, Longping Hi-Tech, Origen, Huanong Weiye, Zhongdi, and Shunxin.
In the first half of the year alone, more than 40 sets of orders were obtained, with a contract value of approximately 20 million. It is estimated that after adopting the four-bucket scale + grain counting machine, the 4400 grains/bag corn seed production line with an annual output of 5 million packs can save more than 1.5 million yuan in raw materials and bring considerable long-term profits for the enterprise.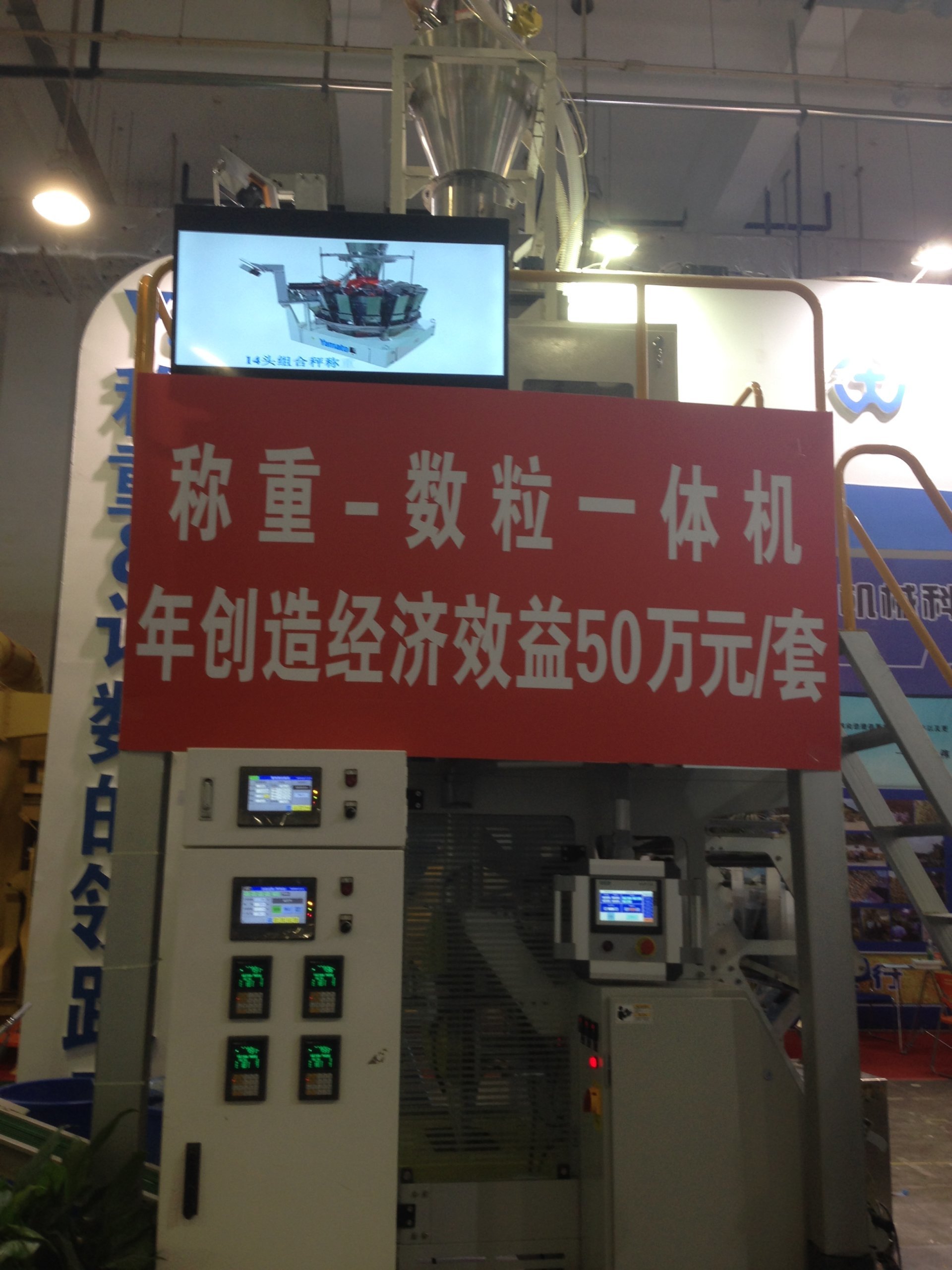 Shanghai Yamato four-bucket weigher adopts four-scale integrated, simultaneous measurement and alternate discharge method, which cooperates with the packaging machine to realize automatic measurement and packaging of granular materials. This scale is suitable for the measurement and packaging of granular materials in the seed, food, chemical and other industries. At present, it has good performance in seed companies such as Monsanto, Syngenta, Pioneer, Longping Hi-Tech, Qiule, Zhongyu, Origen, Liangyu, Jinshiji, Pioneer Seed Industry and Jinchang Petrochemical.
The four-bucket scale is mainly composed of 4 sets of measuring institutions and control parts.
The upper part of the 4 sets of metering mechanisms is equipped with a storage hopper, which can be connected with the material conveying pipeline; the lower part is equipped with a hopper, which can be connected with the packaging machine.
Each metering mechanism includes a set of weighing sensors and components, detachable metering hopper, fast feeding mechanism, slow feeding mechanism and unloading mechanism.
Fast feeding adopts self-weight feeding method, and slow feeding adopts vibration feeding method.
The control part is mainly composed of PLC, weighing instrument, touch screen, etc. Four weighing instruments cooperate with PLC to complete the coordinated control of the whole machine to ensure measurement accuracy and speed.
The metering system has advanced performance, complete functions, simple operation, stability and reliability, high weighing accuracy, fast speed, and convenient coordination with the packaging machine. Has a very high cost performance.
Features:

♦ 1/1000 high-precision measurement, only need to calibrate once a year
♦ EDI-2000 original imported instrument, touch screen controls four instruments at the same time
♦ 4 scales in one weighing and unloading at the same time, 45 bags/minute high-speed automatic quantitative
♦ Adopting the feeding method of "gravity + vibration" to adapt to a wider variety of materials and higher weighing speed
♦ Using a fully sealed structure design with a cleaning door and splash-proof
♦ Four sets of measuring institutions can work at the same time or part of them can be put into work
♦ Removable measuring bucket
♦ With overshoot suppression, drop correction, automatic zero return function
♦ Multiple alarm functions such as out of tolerance, material level, communication, etc.
♦ With feeding flow adjustment function
♦Cleaning function, convenient for users to replace materials
♦ With manual operation function, it is convenient for users to debug equipment
♦ With the function of interlocking with the packaging machine, it can coordinate with the packaging machine through the response signal
♦ A grain counting interface can be reserved, equipped with our company's high-precision photographic grain counting machine, which can automatically track the thousand grain weight and modify the weighing parameters of 4 meters at the same time, improve the accuracy of packaging by grain, and reduce the average number of grains. Save raw materials.
The main technical parameters:
1. Weighing range: 0.5~5.0kg, special requirements can be individually designed according to customer requirements.
2. Weighing speed: 35~40 bags/min
3. Measurement accuracy: It meets the requirements of X (0.2) level in OIML R61, and is not inferior to ±0.2% (full scale).
That is, when 1.5kg/bag, the accuracy is 1500g×±0.2% =±3.0g
Enterprise accuracy target: not inferior to ±1/800 of full scale
4. Operating temperature range: 0~+40℃
5. Operating relative humidity: <85% RH
6. Power supply: AC220V±10% 50Hz 1000W
7. Overall dimensions: 1558×1085×1150mm